Unlock the Benefits of Proper Truck Alignment at Munich Truck Repair's Truck Center
Are you tired of dealing with uneven tire wear, poor handling, and reduced fuel efficiency? Munich Truck Repair is thrilled to announce the grand opening of our new truck alignment center in Alsip. With our unbeatable combination of affordable prices, certified experts, and quality service, we are here to ensure your truck's tires are perfectly aligned for a smoother and safer ride. Read on to discover why truck alignment is crucial, the exceptional benefits of choosing Munich, and how you can take advantage of our limited-time promotion on tire prices this month!
Introducing the Hunter WinAlign® HD Alignment System
We are proud to introduce our latest addition, the Hunter WinAlign® HD Alignment System, which revolutionizes the alignment process. With award-winning, patented alignment software, this system provides three-axle alignment readings in just three minutes, significantly reducing downtime.
Key benefits of the Hunter WinAlign® HD Alignment System include:
QuickGrip® wheel adaptors for fast and secure installation
Rolling compensation without the need for jacking
Rapid diagnosis of tire wear conditions
Effortless rolling compensations with a powered truck pusher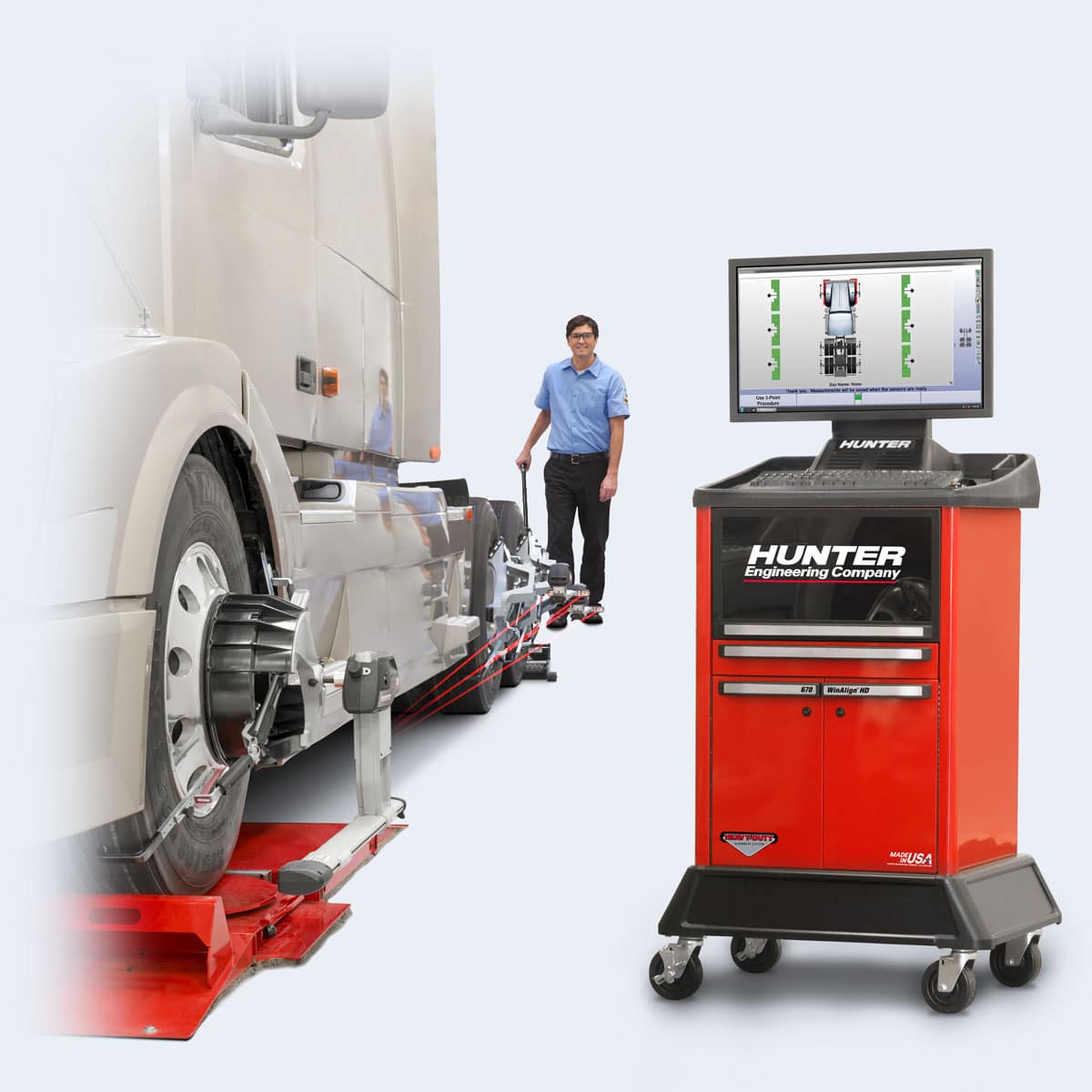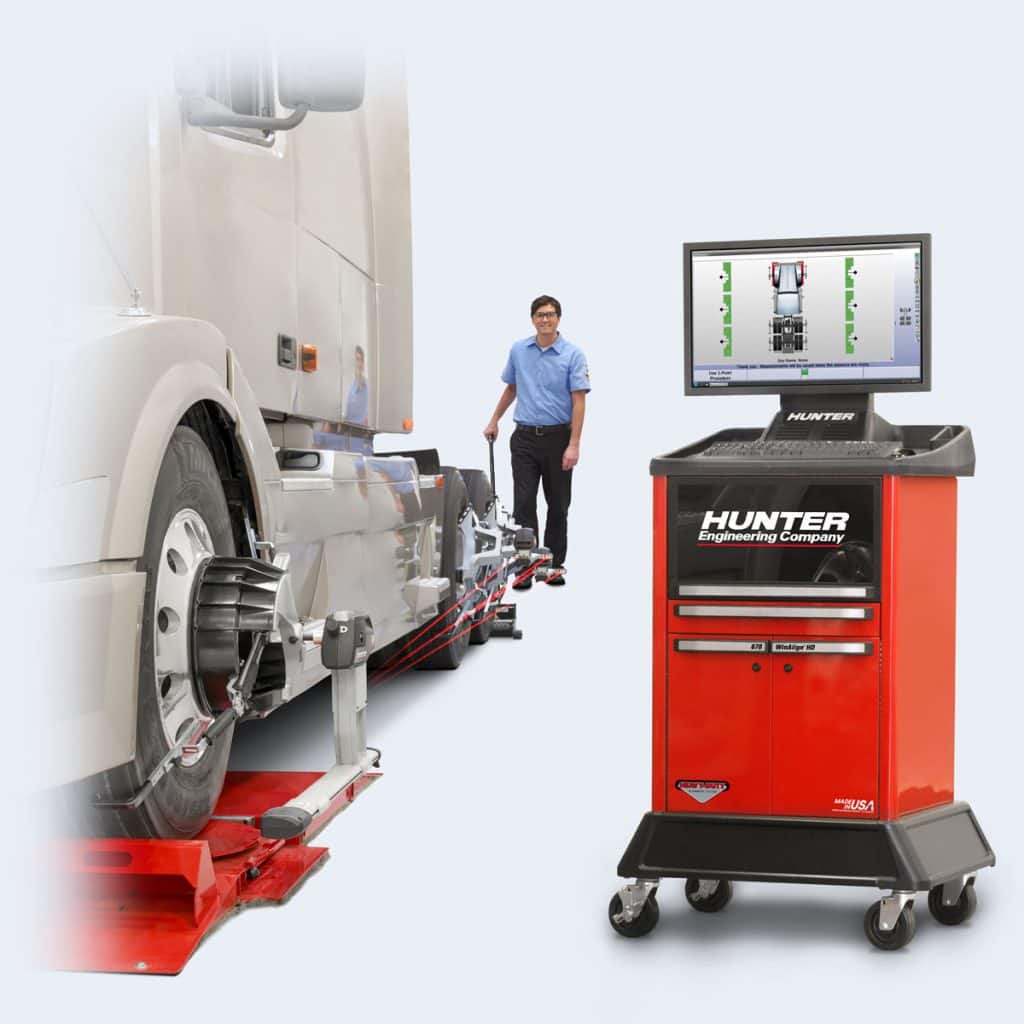 3 minutes job!
With this new technology, accurate three-axle wheel alignment readings are achieved in only 3 minutes, a remarkable improvement compared to the previous generation's 12 minutes.
The WinAlign HD Alignment System utilizes four or six DSP700T heavy-duty alignment sensors. These sensors employ a roll-forward compensation method, allowing all sensors to be compensated simultaneously without the need to jack each axle. With an accuracy range of up to 600 inches, precise measurements are ensured.
The system also reduces setup time and minimizes equipment wear through a completely reengineered setup process.
The Importance of Truck Alignment: Enhancing Performance and Safety
Proper truck alignment plays a pivotal role in maintaining optimal tire performance and extending its lifespan. When your truck's wheels are misaligned, it can lead to:
uneven tire wear,
increased fuel consumption,
compromised handling,
potential safety hazards.
By investing in regular truck alignment, you can minimize these issues, save money on fuel costs, and enhance the overall safety and performance of your vehicle.
Conveniently Located in Alsip: Munich Truck Repair's State-of-the-Art Alignment Center
Conveniently situated in Alsip, Munich Truck Repair's new truck alignment center is easily accessible for all truck owners in the area. Located at 12400 S Cicero Ave near the Tri-State Tollway, our state-of-the-art facility is equipped with cutting-edge alignment technology and manned by highly trained experts who specialize in truck alignment services. If you operate a heavy-duty commercial vehicle, our skilled technicians are ready to provide the precision alignment your truck needs.
Swift Service: First Come, First Served for Efficient Truck Alignment
At Munich Truck Repair, we understand the importance of your time. To ensure you receive prompt service and minimize your downtime, we operate on a first come, first served basis. Simply bring your truck to our alignment center, and our dedicated team will promptly assess your alignment needs and get to work, ensuring a swift and efficient process.
Why Choose Munich? Tradition, Certified Experts, Affordable Prices, Quality Service
Tradition: Munich Truck Repair is backed by a long-standing tradition of excellence in the trucking industry. We take pride in our heritage and continue to uphold our reputation for delivering exceptional service and customer satisfaction.
Certified Experts: Our team of certified alignment technicians possesses extensive knowledge and experience in truck alignment. They stay up to date with the latest industry standards and employ the most advanced techniques to ensure precise alignment for your truck.
Affordable Prices: Munich Truck Repair understands the importance of value for money. We offer competitive pricing on all our services, including truck alignment. Rest assured, you'll receive top-quality alignment services at an affordable price, allowing you to maintain your truck's performance without breaking the bank.
Quality Service: When you choose Munich Truck Repair, you can expect nothing short of excellence. We are committed to providing the highest level of customer service and ensuring your complete satisfaction. Your truck will receive the utmost care and attention to detail, leaving you with a perfectly aligned vehicle that performs optimally on the road.
Limited-Time Promotion: Unbeatable Tire Prices for Your Truck this Month
Lowest Tire Prices of the Month! To celebrate the launch of our new truck alignment center in Alsip, we are thrilled to offer the lowest tire prices of the month! Now is the perfect time to replace your worn-out tires and experience the benefits of properly aligned wheels. Take advantage of this exclusive promotion and equip your truck with high-quality tires at an unbeatable price.
Experience Unmatched Performance and Safety with Our Top-Notch Tire Brands at Munich Truck Repair's Tire Center in Alsip!
Don't compromise on the performance and safety of your truck. Visit Munich Truck Repair's new Tire Center in Alsip today and experience the difference between perfectly aligned wheels. With our tradition of excellence, certified experts, affordable prices, and quality service, we are dedicated to meeting and exceeding your expectations. A premium selection of tires at your disposal, we offer brands like Double Coin, Michelin, Yokohama, Continental and Toyo. Remember, this limited-time promotion on tire prices won't last forever, so hurry in and ensure your truck is in top-notch condition for the road ahead!